FTMO is a forex trading evaluation firm. If you take their test, demonstrate you are a great trader, you will then be funded and can trade their capital! Learn more below about the evaluation process below.
FTMO is looking to build long term relationships with futures traders, and I highly recommend them.
I always recommend visiting their Help Center before signing up to make sure the below information is still current. I do my best to keep everything up to date but ultimately whatever their stated rules are is what counts.

FTMO – How To Become an FTMO Trader
Step 1: The FTMO Challenge
A 30 calendar day demo account where you will have to trade according to FTMO rules. You will have superior account conditions in the form of their own FTMO account solution with very low commissions and raw spreads. If you manage to pass all requirements, you will proceed to the second and final step of the evaluation.
Step 2: Verification
A 60 calendar day demo account whereby you verify your performance and consistency one last time. The rules in the Verification stage are significantly easier. For a detailed explanation of the rules, please visit the Trading Objectives site.
After you successfully pass the Verification stage, you are to become an FTMO Trader after passing their review of your trading. To conclude a contract for your FTMO Account, they will ask you to provide your ID document (passport, national ID card, or driving licence) and complete your identification. The conclusion of the contract is dependent on the finalization of identification procedures in accordance with the FTMO internal policies. FTMO Trading does not provide services to persons listed on sanction lists, persons with criminal records related to financial crime or terrorism, persons below 18 years of age, company trusts, and persons previously banned because of breach of an FTMO Account Agreement. In case any of the above-stated reasons are detected after an FTMO Account Agreement between FTMO and customer has been concluded, FTMO reserves the right to terminate the contract concerned.
Note they don't grant an FTMO Account based on any past track record.
How Long Does It Take To Become an FTMO Trader
The minimum requirement to pass the FTMO Challenge is to trade for at least 10 trading days (don't need to be consecutive).
The minimum requirement to pass the Verification is also to trade for at least 10 trading days (don't need to be consecutive).
You don't need to wait for the entire duration of the Evaluation Process. All in all, you can be managing your FTMO Account in as little as 20 trading days.
Once You Pass Step 1 The FTMO Challenge What Is Next
After you have passed all the Trading Objectives in the FTMO Challenge, you will see a notification in your Account MetriX informing you about your success, and you don't need to trade the account any more once your Trading Objectives are marked as passed. FTMO will be automatically alerted that you have passed your FTMO Challenge and they will proceed to evaluate your trading results accordingly.
After approximately 1-2 business days, they will then send you the new account login credentials for the Verification stage.
If You Break A Rule During The Evaluation
If you happen to breach any of the Trading Objectives, that particular account will be automatically invalidated and loses eligibility to continue in the Evaluation Course. If the breach happens on your FTMO Account, the corresponding FTMO Account Agreement will be terminated. You can always try again from scratch and order a brand new FTMO Challenge if you wish to become a FTMO Trader. Please note they don't provide any discounts for repetitions. If you violate the Trading Objectives, your initial fee paid for the FTMO Challenge is forfeited so be sure to stay safe and respect the rules.
There is, however, one exception. If you manage NOT to breach any of the Trading Objectives (regardless of whether that is the FTMO Challenge or Verification) and your account ending in profit at the end of the trading duration, with all positions closed, they will give you a new FTMO Challenge free of charge. They know that sometimes the market conditions are not in the trader's favour and they appreciate your good trading and ability to manage risk properly.
Furthermore, you can get a free extension of 14 calendar days for your FTMO Challenge if you have not exceeded the loss limits and you have more than 5% profit (balance & equity) on your FTMO Challenge – Normal Risk mode [or 10% profit (balance & equity) on your FTMO Challenge – Aggressive Risk mode], 3 days before the trading period ends. More about the extension here.
The extension needs to be initiated on the 28th or the 29th calendar day of your trading period. The option to extend the trading period will no longer be available on the end date of the duration. In other words, it will no longer be possible to use this feature on the last day of your FTMO Challenge (30th calendar day of your FTMO Challenge).
Using the 14-day extension, you can now consistently keep trading without rushing into emotional decisions instead of having to start from scratch all over again.
And what's more, if you do not meet the Profit Target even with the 14-day extension, you can still wait for your Free Repeat if the usual conditions are met.
What Capital Will You Trade As A FTMO Trader
You will trade with the same account balance that you traded in the FTMO Challenge. If you traded with $200,000 in the FTMO Challenge, you would also manage $200,000 in the FTMO Account.
To avoid any confusion, please note that all accounts they provide to their clients are demo accounts with virtual funds. After a client becomes an FTMO Trader, he/she is provided with login credentials for a demo account, with the difference that the FTMO Account is connected to their Proprietary Trading Firm's live trading account where they generate real cash flow. Clients are entitled to up to 90% of profits generated on the FTMO Account. This solution is much administratively easier and gives them more freedom to actively manage risk.
If you wish to trade with a higher account balance, you can simply apply for another FTMO Challenge and trade more accounts. Each FTMO Challenge needs to be traded from the beginning, irrespective of the progress on your other accounts. As they need to diversify their risk and exposure, they allow a maximum capital allocation of $400,000 per trader or per strategy, at any given time. This can be understood as 2 accounts – each with $200k, or 4 accounts – each with $100k, etc. Please be careful not to get multiple accounts through various registrations. If they discover the identically traded strategies throughout various accounts and exceeding $400,000 in the allocated capital value, they reserve the right to suspend those accounts as per the T&Cs.
Please note that in the case of an Aggressive risk setup version, the maximum capital allocation is $200,000 as the loss limits are doubled.
On the other hand, if you are consistently profitable on the FTMO Account, they will be happy to allocate additional capital as per the Scaling Plan.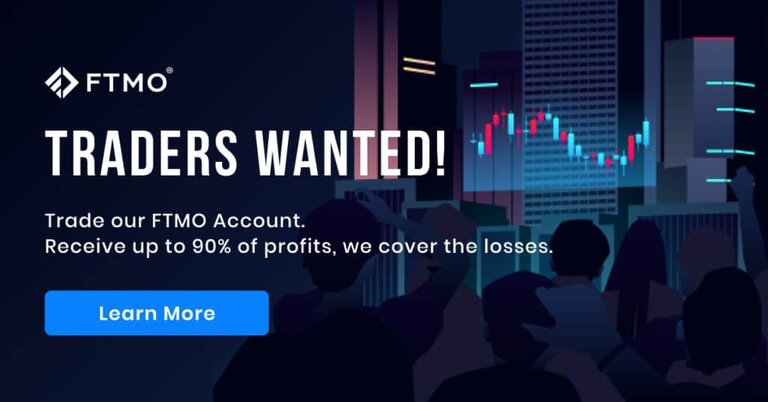 ---
Be Notified Of New Trader Evaluation Promotions
Submit your email if you want to be notified of new trader evaluation promotions. I never spam nor sell anything. Usually 2-3 emails a month are sent with the latest deals.
---
Risk Disclosure:
Futures and forex trading contains substantial risk and is not for every investor. An investor could potentially lose all or more than the initial investment. Risk capital is money that can be lost without jeopardizing ones' financial security or life style. Only risk capital should be used for trading and only those with sufficient risk capital should consider trading. Past performance is not necessarily indicative of future results.
Hypothetical Performance Disclosure:
Hypothetical performance results have many inherent limitations, some of which are described below. No representation is being made that any account will or is likely to achieve profits or losses similar to those shown; in fact, there are frequently sharp differences between hypothetical performance results and the actual results subsequently achieved by any particular trading program. One of the limitations of hypothetical performance results is that they are generally prepared with the benefit of hindsight. In addition, hypothetical trading does not involve financial risk, and no hypothetical trading record can completely account for the impact of financial risk of actual trading. for example, the ability to withstand losses or to adhere to a particular trading program in spite of trading losses are material points which can also adversely affect actual trading results. There are numerous other factors related to the markets in general or to the implementation of any specific trading program which cannot be fully accounted for in the preparation of hypothetical performance results and all which can adversely affect trading results.
You can read more here: Risk Disclosure
Affiliate Disclosure:
The external links on my site and in my video descriptions to trader evaluation companies and software companies are primarily affiliate links. I earn a commission from these companies on any sale made from people visiting these links. That said, I only recommend companies and software I personally use and actually do recommend. Believe me, I turn down a lot of companies who approach me. You can read my full Affiliate Disclosure here.
Additional Disclosure:
The content provided is for informational purposes only. I do my best to keep the content current and accurate by updating it frequently. Sometimes the actual data, rules, requirements and other can differ from what's stated on our website. CanadianFuturesTrader.ca is an independent website. You should always consult the rules, faqs, knowledge base and support of any of the websites and companies we link to or talk about on our site. The information on their site will always be what ultimately dictates the current rules of their program, software or other. While we are independent, we may be compensated for advertisements, sponsored products, or when you click on a link on our website. The contributors and authors are not registered or certified financial advisors. You should consult a financial professional before making any financial decisions.