FTMO is a forex trading evaluation firm. If you take their test, demonstrate you are a great trader, you will then be funded and can trade their capital! Learn more below about the rules of the evaluation process below.
FTMO is looking to build long term relationships with futures traders, and I highly recommend them.
I always recommend visiting their Help Center before signing up to make sure the below information is still current. I do my best to keep everything up to date but ultimately whatever their stated rules are is what counts.

Step 1: The FTMO Challenge
The FTMO Challenge is the first step of the Evaluation Process. Before they allow you to trade their FTMO Account connected to our Proprietary Trading firm, they need to be sure you can trade responsibly and manage risk properly. The FTMO Challenge stage has reasonable rules, where the Profit Target is in balance with the drawdown they allow you to take. They call these rules Trading Objectives.
Note that you don't need to utilize the entire duration of 30 days. As soon as all the Trading Objectives of the FTMO Challenge are met, you can proceed to the Verification phase. The minimum time to complete the FTMO Challenge is 10 trading days.
Following are the Trading Objectives (as of August 2022, please visit FTMO.com for the latest in case these change)
| | | | | | |
| --- | --- | --- | --- | --- | --- |
| Account Balance | $10,000 | $25,000 | $50,000 | $100,000 | $200,000 |
| FTMO Challenge Period | 30 days | 30 days | 30 days | 30 days | 30 days |
| Minimum trading days | 10 | 10 | 10 | 10 | 10 |
| Max Daily Loss | $500 | $1,250 | $2,500 | $5,000 | $10,000 |
| Max Loss | $1,000 | $2,500 | $5,000 | $10,000 | $20,000 |
| FTMO Challenge Profit Target | $1,000 | $2,500 | $5,000 | $10,000 | $20,000 |
| Refundable Fee | €155 | €250 | €345 | €540 | €1 080 |
Step 2: The Verification
The Verification stage is the second and final step of the Evaluation Process. The purpose of the Verification stage is to test your trading consistency. FTMO needs to be sure that you can trade your system or strategy profitably in the long run while respecting the rules. The Verification stage has much easier Trading Objectives compared to the FTMO Challenge stage. In the Verification, the Profit Target is reduced by half and you have full 60 calendar days to score here and shine like a star.
Note that just as in the FTMO Challenge, you don't need to utilize the entire duration of 60 days. As soon as you succeed in all Trading Objectives, they will be happy to welcome you among our FTMO Traders. No need to wait any longer!
Following are the Trading Objectives.
| | | | | | |
| --- | --- | --- | --- | --- | --- |
| Account Balance | $10,000 | $25,000 | $50,000 | $100,000 | $200,000 |
| FTMO Challenge Period | 30 days | 30 days | 30 days | 30 days | 30 days |
| Minimum trading days | 10 | 10 | 10 | 10 | 10 |
| Max Daily Loss | $500 | $1,250 | $2,500 | $5,000 | $10,000 |
| Max Loss | $1,000 | $2,500 | $5 000 | $10,000 | $20,000 |
| FTMO Challenge Profit Target | $1,000 | $2,500 | $5,000 | $10 000 | $20,000 |
| Refundable Fee | €155 | €250 | €345 | €540 | €1080 |
Step 3: FTMO Trader

When you are a FTMO Trader, they already know you and they trust your trading skills and abilities to manage risk properly. That's why FTMO needs to give you the most convenient trading conditions you can imagine. To ensure you are not stressed by chasing any targets, they have completely removed the Profit Target requirement to give you the freedom to trade with a peace of mind. They only require you to respect the drawdown rules (Maximum Daily Loss and Maximum Loss), which are the most important rules they care about.
The FTMO Account is connected to their Proprietary Trading Firm's live trading account with real capital.
Can You Trade During News?
In the FTMO Challenge and Verification, you can trade during news without any restrictions.
After you pass the Evaluation Process (consisting of the FTMO Challenge + Verification), and unless your account type is Swing, you should be careful when trading during news releases.
Following is the trade restriction table for FTMO Traders with specific types of reports and instruments. Only the FTMO Traders having the FTMO Account or FTMO Account Aggressive account types are NOT allowed to execute any new trade or close an existing trade on the targeted (as per the table) instrument in the window of 2 minutes before until 2 minutes after the release of the below news announcements. To clarify, they define executing a trade as opening or closing either a pending order (including stop loss or a take profit) or market execution. You are allowed to hold your trade(s) on the targeted instrument(s) that were opened more than 2 minutes before the restricted news event. Be reminded that if your Stop Loss or Take Profit is activated/filled during the restricted time window of 2 minutes before until 2 minutes after, it may be taken as a violation of the FTMO Account Agreement.
Other non-targeted instruments can be traded normally. E.g. You can trade EURGBP or AUDNZD during the US – NFP release. However, you should not open or close USDJPY or GBPUSD during the window of 2 minutes before to 2 minutes after the NFP release.
Do Positions Have To Be Closed Overnight?
In the FTMO Challenge or Verification, you don't need to. During these stages, you can keep your positions open overnight and over the weekend as well.
However, once you become an FTMO Trader and manage an FTMO Account or FTMO Account Aggressive, they require you to close your positions just before the markets close for the weekend or if the rollover (market break) is longer than 2 hours. FTMO Traders having the FTMO Account or FTMO Account Aggressive must respect the market timings. Every asset class and its respective instruments might have different trading hours that have to be adhered to.
To find the tradeable hours of every individual instrument, you can refer to the Symbols site or go directly to your MetaTrader platform. When you open the Market Watch (Ctrl+M), right-click on the instrument of your interest, and choose 'Specification'. In the dialogue window, scroll down and you can see the 'Trade' hours of the subject instrument. In the cTrader platform, open Markets – right-click on the instrument of your interest, and choose 'Market Symbol'. The trade hours will be displayed in the same dialogue window.
If you trade cryptocurrencies, some can be traded during specific hours of the weekends as well.
Also, the above restrictions don't apply to FTMO Traders having the account type as FTMO Account Swing. Unlike FTMO Account or FTMO Account Aggressive, the FTMO Account Swing does not have restrictions for news trading or holding trades over the weekend.
What Instruments Can You Trade and What Strategies Can You Use?
Your trading style is completely up to you. FTMO has no reasons for limiting or restricting your trading strategy, whether it's discretionary trading, hedging, algorithmic trading, EAs, etc. As long as your trading is legitimate, conforms to the real market conditions and they can replicate your trades on our live corporate accounts, there is no limitation to your trading style or strategy. They don't even impose any limits on instruments or position sizes you trade. You can trade all the instruments and assets that are available in your trading platform (Forex, Indices, Commodities, Stocks, Crypto, etc). You can also view the available symbols on this link. They give you complete freedom here. If your system is profitable while respecting the rules, they are happy to see you profit with them.
If you intend to use trading robots (Expert Advisors – EAs), keep in mind that if you use an EA from a third party, there might be other traders already using the same EA and therefore exactly the same strategy. By using a third-party EA, you potentially run a risk of being denied the FTMO Account if you exceed the maximum capital allocation rule.
Please note that platform servers have 200 orders at a time and 2000 max positions per day limitation, just as the limited acceptance of the server messages (orders and order modifications such as update of TP/ SL and updates of limit orders). If your EA causes hyperactivity to a platform server, they might alert you and ask you to adjust the EA logic or parameters of your strategy.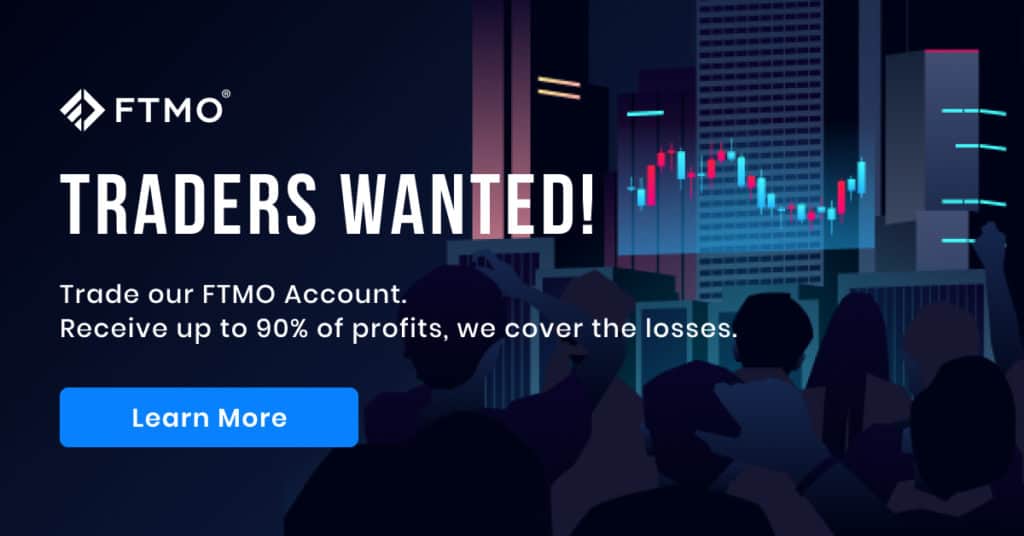 ---
Be Notified Of New Trader Evaluation Promotions
Submit your email if you want to be notified of new trader evaluation promotions. I never spam nor sell anything. Usually 2-3 emails a month are sent with the latest deals.
---
Additional FTMO Articles I've Written
Note several of these articles are older and the information may have changed. Please Visit FTMO and their faqs section for the very latest.
---
Risk Disclosure:
Futures and forex trading contains substantial risk and is not for every investor. An investor could potentially lose all or more than the initial investment. Risk capital is money that can be lost without jeopardizing ones' financial security or life style. Only risk capital should be used for trading and only those with sufficient risk capital should consider trading. Past performance is not necessarily indicative of future results.
Hypothetical Performance Disclosure:
Hypothetical performance results have many inherent limitations, some of which are described below. No representation is being made that any account will or is likely to achieve profits or losses similar to those shown; in fact, there are frequently sharp differences between hypothetical performance results and the actual results subsequently achieved by any particular trading program. One of the limitations of hypothetical performance results is that they are generally prepared with the benefit of hindsight. In addition, hypothetical trading does not involve financial risk, and no hypothetical trading record can completely account for the impact of financial risk of actual trading. for example, the ability to withstand losses or to adhere to a particular trading program in spite of trading losses are material points which can also adversely affect actual trading results. There are numerous other factors related to the markets in general or to the implementation of any specific trading program which cannot be fully accounted for in the preparation of hypothetical performance results and all which can adversely affect trading results.
You can read more here: Risk Disclosure
Affiliate Disclosure:
The external links on my site and in my video descriptions to trader evaluation companies and software companies are primarily affiliate links. I earn a commission from these companies on any sale made from people visiting these links. That said, I only recommend companies and software I personally use and actually do recommend. Believe me, I turn down a lot of companies who approach me. You can read my full Affiliate Disclosure here.
Additional Disclosure:
The content provided is for informational purposes only. I do my best to keep the content current and accurate by updating it frequently. Sometimes the actual data, rules, requirements and other can differ from what's stated on our website. CanadianFuturesTrader.ca is an independent website. You should always consult the rules, faqs, knowledge base and support of any of the websites and companies we link to or talk about on our site. The information on their site will always be what ultimately dictates the current rules of their program, software or other. While we are independent, we may be compensated for advertisements, sponsored products, or when you click on a link on our website. The contributors and authors are not registered or certified financial advisors. You should consult a financial professional before making any financial decisions.