FTMO is a forex trading evaluation firm. If you take their test, demonstrate you are a great trader, you will then be funded and can trade their capital! Learn more below about the process, and look for our other articles on the specifics of the Qualification and Verification accounts.
FTMO is looking to build long term relationships with futures traders, and I highly recommend them.
I always recommend visiting their Help Center before signing up to make sure the below information is still current. I do my best to keep everything up to date but ultimately whatever their stated rules are is what counts.

FTMO Free Trial
Before you decide to accept the FTMO Challenge, you will want to make sure that you know what you are up against.
After you sign up, FTMO will offer you a Free Trial where you can try trading as if you were in the FTMO Challenge, and this is completely for free. In the Free Trial, you will also have the possibility to test the Trading Applications and you will also receive a shortened analysis version of your performance in the Free Trial.
Once you are ready to accept the FTMO Challenge, you can configure your account here.
Please note you can't receive a FTMO Account based on your performance in the Free Trial or any other external track record. The Evaluation Process is designed in a way to provide FTMO with sufficient grounds to ascertain your trading skills and allow you to trade the FTMO Account.
What Is The FTMO Challenge
FTMO is a project which is looking for experienced traders. To ascertain if a trader has all the qualities they seek, they developed a 2-step evaluation course. These two steps consist of the FTMO Challenge and the Verification. The course is specifically tailored to discover talent within a trader. The path of a trader is challenging, and the educational applications, account analysis and performance coach are here to guide the traders. Upon successful completion, traders are offered a placement in the FTMO Proprietary Trading firm, where they can remotely manage up to 400,000 USD and continuously grow the account according to the Scaling Plan. As an FTMO Trader, you are eligible to keep up to 90% of the profits you generate. The company covers all losses, if any. More about the profit-sharing programme can be found here.
Who Can Join FTMO
FTMO accepts traders from all around the world. There is no special qualification required. All clients must be at least 18 years old. If you know how to trade profitably and with proper risk management, that is all they care about.
Please note that FTMO does not provide services to persons in/from Iran, Syria, and North Korea, persons listed on sanction lists, persons with criminal records related to financial crime or terrorism, and to persons previously banned because of breach of contract.
Why You Should Join FTMO
Trading is difficult. As a trader, you will face many common problems such as:
Trading an account that is too small (undercapitalization)
Fear of losing your own money
Psychological pressures
Lack of discipline
Growth limitations
Insufficient support from other people
It is difficult to make a living as a trader. With the FTMO Prop Trading firm, you can manage the FTMO Account with an initial balance of up to $400,000. If you generate profits on the FTMO Account, the Proprietary Trading firm will keep from 10% to 20% as the Profit Split, and you will be rewarded with up to 90% of achieved profits. However, it needs to be understood that this is the best-case scenario and similarly, traders might face periods when they don't earn any profits. In general, trading is a risky business.
Another benefit of trading for FTMO is that you won't be responsible for any losses if any. In case things go wrong, all losses on the FTMO Account are covered by the Proprietary Trading firm. You don't need to fear losing if you literally have nothing to lose.
At FTMO, they are also traders and they understand that to be a great trader, it is not just about having enough capital to trade with. The performance of the traders directly reflects the performance of the company. Therefore, it is in their interest that their traders trade under the best conditions. FTMO Traders may periodically consult with our Performance Coach free of charge. Also, traders at FTMO will receive wide access to our innovative Trading Applications which can enhance their trading edge and they will also evaluate your trading accounts with detailed feedback from the company.
Then there is trading discipline. You cannot be all loosey-goosey with the FTMO Account. They will carefully observe your trading results and you will be trading under much easier rules. They believe that the rules are not very restrictive but at the same time, they would prevent a disaster if you decided to go on tilt. No more over-trading, revenge trading, over-leveraging etc. That is why you will learn to manage risk much better once you start trading with FTMO.
Another issue traders face is the so-called 'keep and grow or withdraw and go'. Do you prefer compounding your account or rather enjoy your hard-earned profit? At FTMO, you can do both. FTMO will pay out up to 90% profit share on a monthly basis. Periodically, they will allocate more balance into your FTMO Account if you consistently profit. Get paid and grow at the same time according to the Scaling Plan.
Last but not least, the initial fee that you've paid will be refunded to you with the first Profit Split from the FTMO Account.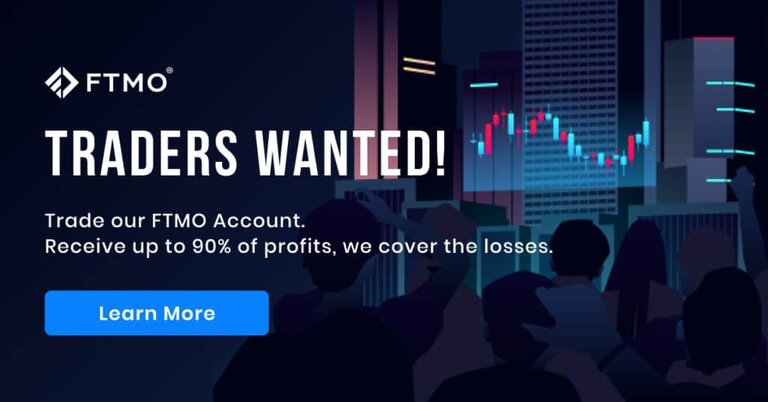 ---
Be Notified Of New Trader Evaluation Promotions
Submit your email if you want to be notified of new trader evaluation promotions. I never spam nor sell anything. Usually 2-3 emails a month are sent with the latest deals.
---
Risk Disclosure:
Futures and forex trading contains substantial risk and is not for every investor. An investor could potentially lose all or more than the initial investment. Risk capital is money that can be lost without jeopardizing ones' financial security or life style. Only risk capital should be used for trading and only those with sufficient risk capital should consider trading. Past performance is not necessarily indicative of future results.
Hypothetical Performance Disclosure:
Hypothetical performance results have many inherent limitations, some of which are described below. No representation is being made that any account will or is likely to achieve profits or losses similar to those shown; in fact, there are frequently sharp differences between hypothetical performance results and the actual results subsequently achieved by any particular trading program. One of the limitations of hypothetical performance results is that they are generally prepared with the benefit of hindsight. In addition, hypothetical trading does not involve financial risk, and no hypothetical trading record can completely account for the impact of financial risk of actual trading. for example, the ability to withstand losses or to adhere to a particular trading program in spite of trading losses are material points which can also adversely affect actual trading results. There are numerous other factors related to the markets in general or to the implementation of any specific trading program which cannot be fully accounted for in the preparation of hypothetical performance results and all which can adversely affect trading results.
You can read more here: Risk Disclosure
Affiliate Disclosure:
The external links on my site and in my video descriptions to trader evaluation companies and software companies are primarily affiliate links. I earn a commission from these companies on any sale made from people visiting these links. That said, I only recommend companies and software I personally use and actually do recommend. Believe me, I turn down a lot of companies who approach me. You can read my full Affiliate Disclosure here.
Additional Disclosure:
The content provided is for informational purposes only. I do my best to keep the content current and accurate by updating it frequently. Sometimes the actual data, rules, requirements and other can differ from what's stated on our website. CanadianFuturesTrader.ca is an independent website. You should always consult the rules, faqs, knowledge base and support of any of the websites and companies we link to or talk about on our site. The information on their site will always be what ultimately dictates the current rules of their program, software or other. While we are independent, we may be compensated for advertisements, sponsored products, or when you click on a link on our website. The contributors and authors are not registered or certified financial advisors. You should consult a financial professional before making any financial decisions.